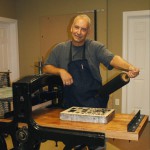 Blue Fig was founded in 2009 by Mike Martino to establish a printmaking workshop that would collaborate with artists to produce limited editions of original silk screens, etchings, lithographs, woodcuts, monotypes and collographs. Blue Fig contracts collaborative printing projects for non-artists and other organizations that find value in unique limited editions prints. The studio is also available on a limited basis for open-shop work by experienced print-makers and artists.
Blue Fig Editions is located 20 minutes south of Nashville TN. We have a modern space of over 1500 sq ft. that allows a variety of print mediums. We are capable of printing a range in both image size and edition quantity. This can vary from postage stamp size of  15 pieces up to poster size print with an edition of several hundred.
Blue Fig also partners with charitable organizations to develop limited editions for publicity as well as unique fund raising opportunities.  Many of these prints are created in collaboration with celebrities to promote these charitable causes.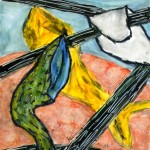 At Blue Fig we have a strong foundation on traditional printmaking techniques and strive to maintain the history of printmaking. However we also push our printmaking skills to embrace new technologies and media as well as broaden our techniques and to include safety for the artist as well as for the environment.
Mike Martino is also an acclaimed artist and printmaker who shows his work both locally throughout the Nashville area while maintaining connections throughout the United States.
Winter 2010 update,  Just completed a great workshop for doing Monotypes. People walked away with some of their own great artwork as well as learned a new printmaking technique. new workshops are always being added so call or contact us for updated schedules.